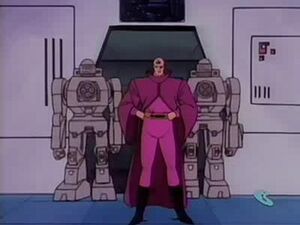 Wheel is the main villian of the episode "Three Strikes and You're Dead", he was hired by Doc Terror to capture the baseball player Blaster McGraw because Terror make a bet on Blaster's rival team. However, when Ace McCloud rescued Blaster, Wheel sent his robots to destroy everyone on his base, including Amber.
During the attack on the Mega-Dome, Wheel tries to escape, only to be stopped by Amber, who was sent by Terror to bring him to Dominion because he was considered a traitor by Terror.
Voice Actor
Edit
Eduardo Borja - Spanish dub
Foreign names
Edit
Señor Rueda (Mister Wheel), La Rueda (The Wheel) - Spanish dub
Ad blocker interference detected!
Wikia is a free-to-use site that makes money from advertising. We have a modified experience for viewers using ad blockers

Wikia is not accessible if you've made further modifications. Remove the custom ad blocker rule(s) and the page will load as expected.