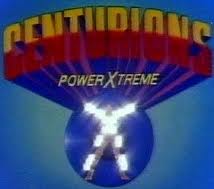 In the near future, an evil genius, the
cyborg
Doc Terror
, seeks to conquer the Earth. He is
assisted
by
Hacker
, the cyborg sidekick and an army of
Doom Drones
. At each turn their evil plans are thwarted by the heroic
Centurions
. The Centurions are a team of men dressed in specially created
exo-frames
that allow them (upon shouting "
PowerXtreme
!") to fuse with 'incredible'
assault weapon systems
, becoming what the show calls M
an and Machine PowerXtreme!
About Power Extreme WikiEdit
This Wiki is focused about the Centurions: Power Xtreme cartoon series and toyline created by Kenner and Ruby-Spears Enterprises. Feel free to fix typos, add translations, or rewrite articles. Any mistakes that might be made can easily be changed back.
Who is your favorite Centurion?