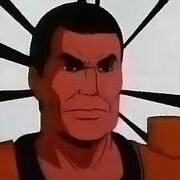 Rugged land operations specialist. Being the world's expert on ground maneuvers, Jake is a member of the most formidable fighting force team, the Centurions. In his first attempt, Jake Rockwell shattered all speed and endurance records in the Intercontinental Cross-Country Race. He drives turbo crash cars in demolition derbies on weekends. His specialty is brute force and he's smart in a streetwise sense. He also has a pet dog called
Shadow
.
The only instance where Jake seems to have a superhuman hability was during the episode "Hacker Must Be Destroyed" where he was able to breath and talk in space without needing a helmet, similar to Ace's constantly seen hability.
Assault Weapons Systems used by Jake
Edit
Voice Actors
Edit
Vince Edwards (1928-1996)
Moises Palacios - Spanish dub
Ad blocker interference detected!
Wikia is a free-to-use site that makes money from advertising. We have a modified experience for viewers using ad blockers

Wikia is not accessible if you've made further modifications. Remove the custom ad blocker rule(s) and the page will load as expected.