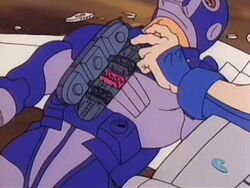 The Exoframe (or Exo-Frame) is a suit used by the Centurions to attach and use their Assault Weapons Systems. This function is possible thanks to the use of circuitry bundled on the suit.
Foreign names
Edit
Protector/Exocoraza o Exo-Coraza - Spanish dub
Ad blocker interference detected!
Wikia is a free-to-use site that makes money from advertising. We have a modified experience for viewers using ad blockers

Wikia is not accessible if you've made further modifications. Remove the custom ad blocker rule(s) and the page will load as expected.